Waterkant Picnic
Who doesn't feel like going out on a beautiful day? At Waterkant you can pick up picnics all summer long.
The picnics are for two people. The children's picnic can only be ordered in combination with an adult picnic.
Of course you can also choose from the menu or buy a bottle of wine and take it with you.
With or without a boat: Let us know at least a day in advance so that we can prepare for your arrival. Send an email to alles@dewaterkant.nl or click on the yellow booking button.
Picnic (for two) € 75,-; in weekends € 85,-
1 bottle of white wine
2 tuna salad sandwiches
2 boiled eggs
something sweet
fruit
small bottle of water
Extra person: € 27,-
Children's picnic (one) € 12,50
chocolate pancake
crudités: cherry tomatoes, carrot and cucumber
juice
The price of the picnic includes an hour and a half rowing. Extra hours of rowing: € 14 per hour, during the weekend € 18 per hour. If you want to eat the picnic in the park, on the terrace or at home, the boat rental will be excluded in the price of your picnic basket.
Alternating daily menu
As variable as the weather, our daily menus also change. One time a sunny pasta with a salad, the other time a delicious soup on a rainy day.
Tasty and handy if you want to eat something spontaneously. Be surprised!
The menu is announced daily on the board at the counter or ask our employees about it.
You are always welcome. Do you want to be sure of a seat? Then call if it is busy. Are you coming with 8 or more people? Then we would like to receive a reservation.
Waterkant does not serve meat.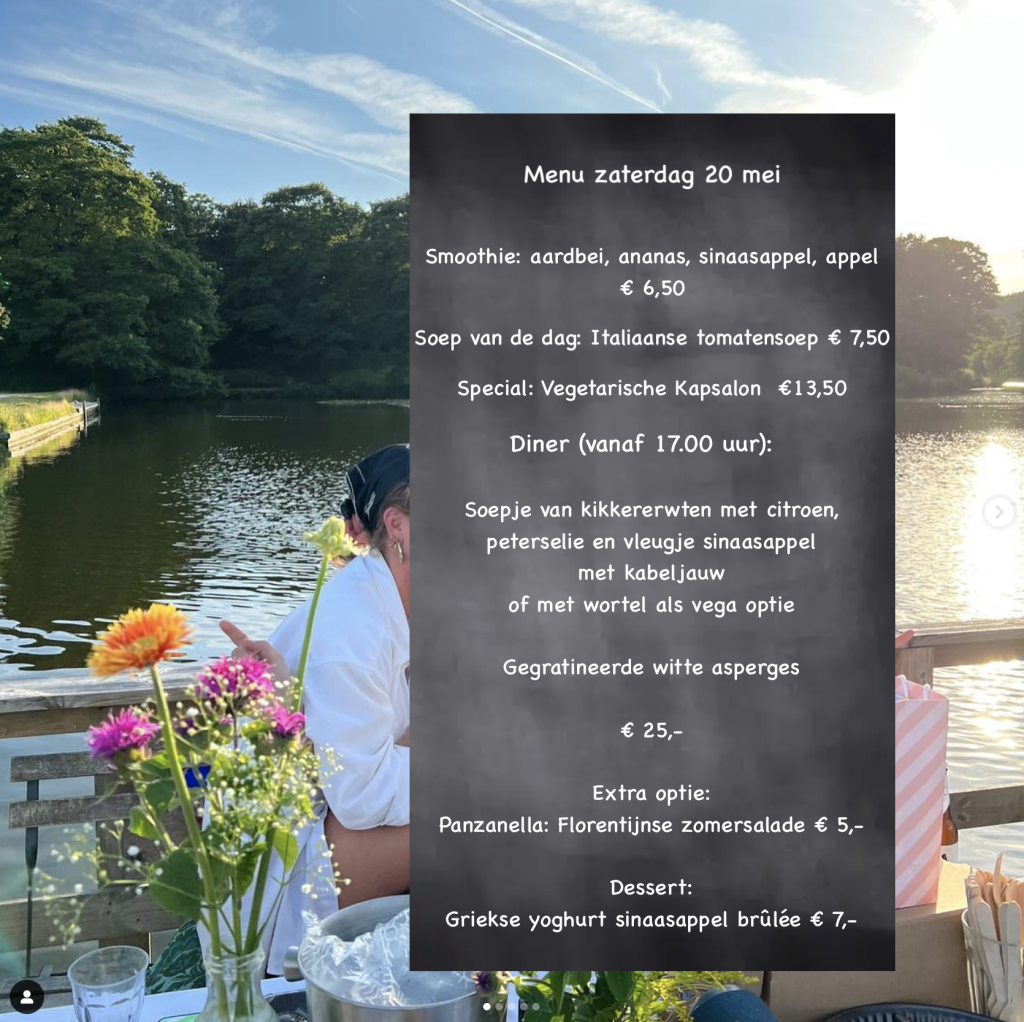 Chef guest
We regularly receive a guest chef in our kitchen. Last year Chris came to cook for us and there was pasta and a whiskey tasting from Sandro Bruti! This year we will again invite a number of guest chefs.
Menu cards