Welcome to Waterkant !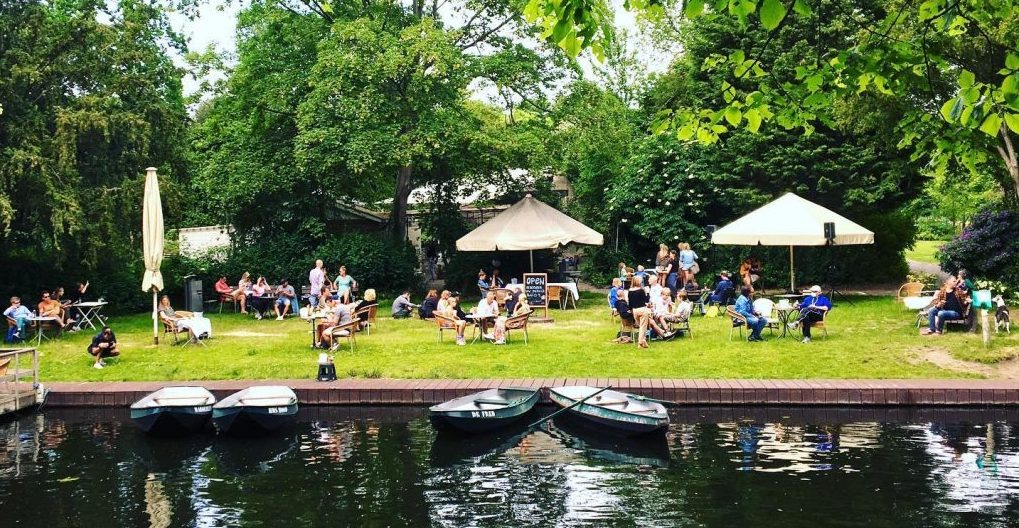 Alternative to the crowds of seaside boulevards, try nearby 'Waterkant' -Water's Edge-. Our little ponton ferries you across as you enter the most beautiful grass terrace of The Hague. Due to the south facing secluded setting, the temperature is often several degrees higher than the rest of town. You can also enter through the park. Waterkant is situated in the middle of the Rose Garden in the Westbroekpark.
Opening hours
We are open daily from King's Day to Prinsjesdag to the third Tuesday in September = opening Dutch parliamentary year, from 10:00 a.m. to 9:00 p.m. Our terrace might open sooner, from April 1st onwards. Weather permitting we stay open till half October.
Besides rowing boats, picnics, lunches, drinks and dinners, supping (stand up paddle) and bunker exhibitions, this oasis just outside the city is also an ideal place for your wedding ceremony, outdoor meeting, party or event. Our floating terrace max. 12 people/ 1000 kilo's with or without skipper, makes every company outing a special experience!
Terrace and Take Away
Enjoy our lawn by ordering your breakfast, lunch, dinner and snacks from our regular menu, also see our daily specials. Or opt for take away: coffees, teas, juices, cakes and homemade sweets. See: menu card.
Picnic
A very nice experience is to reserve a picnic basket with us. You can combine this with an hour and a half of rowing or take it to the park. We have a Picnic for Two and a Children's Picnic. Of course you can also order the sandwiches from the lunch menu or a bottle of wine and take it with you.
For the Picnic menu see menus.
Bunker
On our site there is an old bunker where there are regular exhibitions with an emphasis on moving images. Free admission is daily from 10am to close.
Click here for the program or visit: www.bunkerexposities.nl
NEWS
Paella Party

On Friday September 15, Mattia's favorite pan will be fired up again and he will make a delicious Paella! Join for dinner? This is possible from 6 p.m Reservations are recommended. The paella is with fish and without meat). Costs: € 17.50 p.p. (incl. a salad)

July 22nd: Guest-chef Sandro Bruti

The Parade has now settled in the Westbroekpark. A great opportunity to get our own showpiece in the spotlight. On July 22, Sandro Bruti will take over the kitchen to cook his famous pasta for us. Brutiful Pasta it is! Sandro makes two 'batches': The first is served from 6 …

Read more

Mother's Day brunch: High Tea or High Wine?

It's always nice to put someone or yourself in the spotlight. Sitting in the sun together is even more fun! You can do that on May 14th and we will serve a festive brunch: High Tea A large pot of tea Small sandwiches Cakes, a scone with cream & jam, …

Read more